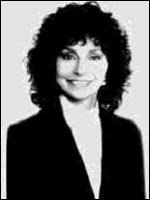 Joyce Johnson, President of Wellness Center of America, says "your blood chemistries can warn you of a future health disaster 5 years before the symptoms appear".
She predicts this by performing 99 tests on the chemistries of a client's blood, urine, and hair, thus developing a "nutritional blueprint" which shows the reasons why present conditions, like joint pain and fatigue have occurred. With this information, you will have the solutions to your health problems, at the same time preventing a future life-threatening event!
Being a nutritionist, "Dr. Joyce" will recommend changes in diet, stress management, food supplements, and exercise, which will reverse these disorders. She specializes in the repair and restoration of the immune system, prevention and reversal of degenerative diseases, increasing stamina and energy, weight loss without dieting, and stopping the "disease called aging". "I think aging is actually the result of damage to DNA cells", says Joyce. "If DNA is defective, then the cells that are replicated are also defective. This accelerates the aging process. With proper nutrition and lifestyle DNA can actually be repaired!"
A pioneer in this type of nutrition analysis, she has helped thousands of clients over the past 40 years. In her news column Eye on Health and on her radio shows, she gives nutrition advice. Her newest book, Blood Chemistry... the Key to Predicting Cancer, is now avaible by calling our office. "Dr. Joyce" is living proof of the value of her teachings.
Yet 45 years ago she contracted such a debilitating case of rheumatoid arthritis that she could no longer teach ballet and was almost confined to a wheelchair. Her research in nutrition revealed the causes for her biochemical imbalances. After a year of dramatically adjusting her diet and lifestyle she was, and is today, virtually pain-free.
Joyce Johnson returned to college for her degrees in nutrition. She specializes in hematology (the science of blood chemistry) and studied with renowned, Dr. Harold Manner, head of the Biology Department at Loyola University in Chicago. He is well known for his controversial book, Death of Cancer, and actually coined the word "metabolic" used daily in today's medical community. She also worked closely with Nathan Pritikin, discoverer of the diet/cholesterol connection.
.