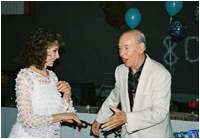 Heart disease, lung cancer, and kidney failure are three of the leading causes of death in the United States.
Unfortunately, each illness has become more prevalent over the past few decades. One out of two persons will get cancer in their lifetime and that number is increasing everyday.
The good news is that serious health problems can be prevented and in many cases overcome, with the assistance of Joyce Johnson, President of Wellness Center of America. A few years ago, Dr. Joyce married a vibrant seventy-seven year old guitarist, artist, and businessman.
However, this was not the case when she first met him; he was lying on his death bed suffering from congestive heart failure. Immediately she began screening him for his Nutritional Chemistry Blueprint to determine exactly what his body required.
His cardiologist was astounded to announce that he was actually cured of Congestive Heart Failure! Through her expertise, the man of her life is now up and about, enjoying a full and active life and achieving his dreams.
Utilizing the Nutritional Chemistry Blueprint, the Wellness Center of America can aid many serious health sufferers oftentimes by just a few, simple corrective actions. Whether it is genetic or environmental in nature, the effects of chronic health problems can be alleviated through the remarkable Wellness Center of America.
Call today for your personal consultation.